Wire Mesh Fence Series
Temporary Fence Series
Chain Link Fence Series
Agricul Ture Fence Series
Garden And Residential Fence Series
High Security Fence Series
Razor Wire Series
Fence Accessories Series
Barbed Wire Series
Products
| | |
| --- | --- |
| | |
| Black Vinyl Chain Link Fence-BVF01 | Black Vinyl Chain Link Fence-BVF02 |
| | |
| Black Vinyl Chain Link Fence-BVF03 | Black Vinyl Chain Link Fence-BVF04 |
Black Chain Link Swimming Pool Fence, Decorative Yard and pool fences Black Vinyl Coated Chain Link Fabric makes ideal outdoor swimming pool fence panels. The vinyl coating adds more protection for the fence fabric from sunlight, acid water and other outdoor factors. Yudemei offers also black coated chain link gates to fit the fence system to make a beautiful yarn for you. With the bright color, black chain link fabric is much suitable for the yards, parks, zoos, pool security fencing, industrial zones compared to galvanized chain fencing and stainless steel chain-link fence. In addition, it costs low than other type materials. Fence materials are galvanized before steel, then plastic coated with black or green or other colors.Fence Panel Specifications1. Wire Diameter: 3.55/4.75 mm, 2.50/3.55 mm, 2.24/3.15 mm, 1.70/2.50 mm. As the iron wire surface is with the vinyl coating.2. Mesh Opening: 30mm - 60mm.3. Fence Height: Common heights include 1m, 1.2m, 1.5m, 1.8m, 2m.4. Package: The standard black chain link fence rolls length is 30m or 45m, special length can be available.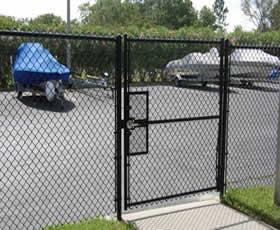 Black chain link fitting gates:
Technique specifications:
a) 1.2mt high black powder coated chain link fencing and gates as follows:
Gate and end posts 40NB galvanized steel powder coated black
Posts 32NB galvanized steel powder coated black
2.4mt centers
Top rail 25NB galvanized steel powder coated black
Attached to posts with black powder coated down fittings Chain wire galvanized steel black PVC coated, 60x60 diamond
Bottom cable black PVC coated* 3 sets double gates 25NB frame powder coated black
3.2mt opening size, black chain wire infill.
b) Gates is swing type, hinged to swing 180 degrees from closed to open,
complete with frames, latches, stops, keepers, hinges, fabric, braces,
and PVC coating wire mesh(50×50), diameter 4mm.
c) 42 x 42", 42 x 48", 48 x 48", 42 x 60", 42 x 72" single walk fence gate 1 3/8" tubing hot dipped galvanized
12' x 42", 12' x 48", 12' x 60", 12' x 72" double drive fence gate 1 3/8" tubing hot dipped galvanized
6' x 6', 6' x 12' kennel panel 1 3/8" tubing hot dipped galvanized.
| | |
| --- | --- |
| | |
| Black Vinyl Chain Link Fence-BVF05 | Black Vinyl Chain Link Fence-BVF06 |