Wire Mesh Fence Series
Temporary Fence Series
Chain Link Fence Series
Agricul Ture Fence Series
Garden And Residential Fence Series
High Security Fence Series
Razor Wire Series
Fence Accessories Series
Barbed Wire Series
Products
| | |
| --- | --- |
| | |
| Outline of Chain Link Fence-OCLFS01 | Outline of Chain Link Fence-OCLFS02 |
Outline of Chain Link Fence, Our Featured Products:
Chain link wire mesh fences provide strong, durable and flexible construction at economic cost. Also known as Rhombic Mesh, the spiral woven structure offers good linear strength and springy texture to protect horses and other animals from injury. Yudemei chain link wire can work as permanent perimeter fencing or temporary fences. When used in connection with Plastic Steel/Concrete Fence Post, it can generate a Complete Temporary Fencing System that is extremely stable and versatile. When used together with barbed wire or concertina wire coils along the fence tops, it is a high security barrier system.
Wire diameter applied ranges from 1.6mm to 6.0mm for making of chain link mesh.
Mesh openings are commonly 1/2", 3/4", 4/5", 1", 2" and etc.
The Fencing's Chain link wire options include: - Galvanised steel, hot dipped, powder coated or PVC coated (Black or Green), stainless steel or aluminized steel. Commonly five choices in total.
| | |
| --- | --- |
| | |
| Outline of Chain Link Fence-OCLFS03 | Outline of Chain Link Fence-OCLFS04 |
| | |
| Outline of Chain Link Fence-OCLFS05 | Outline of Chain Link Fence-OCLFS06 |
Fence Panels: Heights 900, 1200, 1500, 1800, 2100 mm.
Chain Link Fence has two edge options including knuckle looped selvage and twist pointed. The knuckled selvage is the common treatment unless otherwise stated. The chain link fence with twisted selvage has sharp points at the end hence usually adds security to the whole fence system requires for higher level of safety. Photos illustration below.
| | |
| --- | --- |
| | |
| Outline of Chain Link Fence-OCLFS07 | Outline of Chain Link Fence-OCLFS08 |
Surface treatment: Hot dipped zinc plating; Electro galvanizing; Plastic coating, Aluminised (aluminum coated) steel.
Materials popularly used include galvanized steel, aluminum or stainless steel.
Features and Uses: Chain link fence fabric is a versatile fencing solution for building sites, boundary fence, security fencing, partitions, storage enclosures, tennis courts, sporting fields, industrial estates etc. It is also used for hills slope and soil protection.
This fence offers stronger texture compared with welded wire fences.
Building of the Chain Link Fencing System:
Main Fence Post: Galvanized or pvc coated options according to the finishes of the fence fabrics. Y type, studded type and T type. Steel pipes, fence post cap, anchor bars. Usually Heavy galvanized with galvanized thickness of 300gr/m2 .
Beam Post, with pipes and rail ends. Galvanized or PVC coated or aluminized depending on the surface treatment of the chain link fence fabric. Heavy galvanized with galvanized thickness of 300gr/m2
Chain Link Mesh Panels: GALVANIZED + PVC GRAY, or Aluminized steel
Chain Link Gates options: Walk Gate, Single Gate, Double Swing Gate, Sliding Gate, Foldable Gate and Roll Gate.
It can be made according to the customers' exact specifications either walk gates, single gate swinging, sliding or folding. Gate illustrations as below.
| | |
| --- | --- |
| | |
| WalkGates | SingleGates |
| | |
| DoubleSwingGates | CantileverGates |
| | |
| RollGates | |
Barbed Wire: Optional. Barbed wire can be chosen to use together with chain link panel. For enhanced security level. Galvanized, hot dipped or PVC coated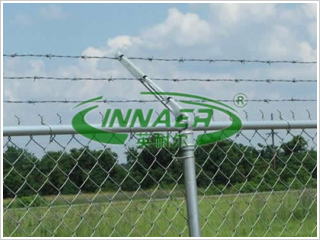 Razor Wire: Optional. Galvanized, hot dipped or PVC coated.
Concertina Wire: Optional.
Technical Information:
Here is the method and processing we make Diamond Opening Chain Link Mesh for you. Drawing of Diamond Mesh Opening is available below.
Unlike common woven mesh or welded wire fabrics, chain link mesh is made with automatic and half automatic weaving machines through a unique processing.

The manufacturing of chain-link fencing is called spiral linking. A metal wire, often electro or hot dipped galvanized for corrosion resistance, is pulled along a rotating long and flat blade, thus creating a somewhat flattened spiral. The spiral continues to rotate past the blade and winds its way through the previous spiral that is already part of the fence. When the spiral reaches the far end of the fence, the spiral is cut near the blade.
Next, the spiral is pressed flat and the entire fence is moved up, ready for the next cycle. The end of every second spiral overlap the end of every first spiral. The machine clamps both ends and gives them a few twists. This makes the links permanent.
Finally, when put in tension and straighten the roll or fixed to fence post, the fabric shows its flexible diamond opening. This is the reason Chain Link Wire is also popularly known as RHOMBIC Mesh or Diamond Mesh.